SZF inertial vibrating hot material conveyor is a long-distance conveying equipment with an airlock function. This machine is suitable for horizontal conveying of various granular materials below medium size and horizontal conveying (≤500C ) high-temperature and high-wear materials, such as dried hot slag, cement clinker, etc. It is most suitable for cement shaft kiln, as a material sealing and discharging machine.
Read More: Vibrating Conveyor – Applications, 4 Types
SZF inertia vibrating conveyor is a kind of general conveying machinery, besides being used in the cement industry, it can also be used in metallurgy, mining, chemical industry, electric power, and other industries. It is an ideal new conveying equipment.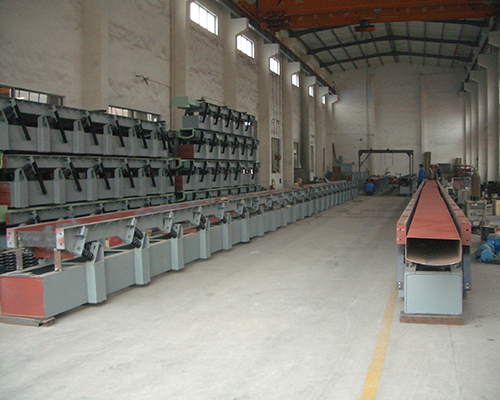 5 Features of SZF Inertial Vibrating Conveyor
The conveying distance is long, the conveying capacity is large, the energy consumption is low, the noise is low, and there is no need to adjust the thermal state when conveying high-temperature materials.
The structure is simple, the installation is convenient, the wear and tear are small, and the maintenance workload is small.
Stable performance, reliable operation, fast and stable start, and stop
The material can be fed in and out at multiple points, the vibration isolation performance is good, and the top and bottom of the warehouse can be used.
Fully enclosed structure, when used as a horizontal material sealing discharge machine, the air-locking effect is good.
6 Technical Parameter of SZF Inertial Vibrating Conveyor
Delivery capacity: 50 tons/hour
Slot width: 400 mm
Conveying length: 6-30 meters
Total power:

1.5 kW x 2 when the conveying length is less than 10 meters
2.2 kW x 2 when the conveying length is 10m to 20m
3 kW x 2 when the conveying length is 20m to 30m

Machine appearance (height × width): 1200 × 730 mm
Equipment weight: The weight of the conveyor is about 350 kg per meter
Read More: What is a Conveyor