DMA Electromagnetic
Vibratory Feeder
DMA electromagnetic vibratory feeder has a simple structure, convenient operation, no lubrication, low power consumption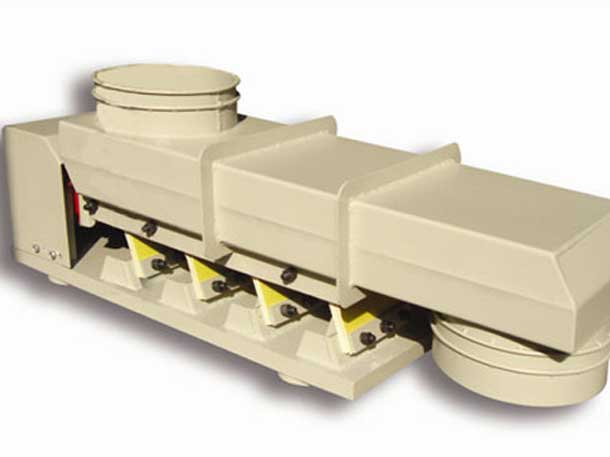 DMA series electromagnetic vibratory feeder
DMA series electromagnetic vibratory feeder is widely used in mining, metallurgy, coal, building materials, chemical industry, electric power, machinery, food, and other industries to feed granular or powdery materials uniformly, continuously, and quantitatively from storage bins or hoppers. It is especially suitable for automatic batching, quantitative packaging, automatic control, etc., to realize the automation of the production process.
Read More: Feeder Wikipedia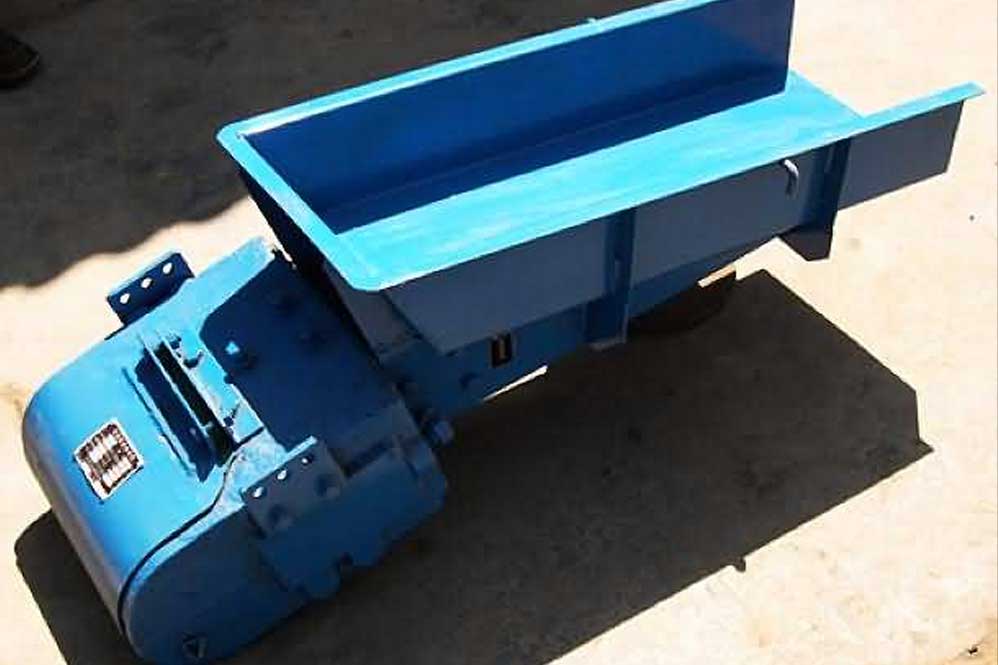 Installation and use of DMA electromagnetic vibratory feeder
Electromagnetic vibrating feeder equipment is divided into two types: open type and closed type. According to the installation method, it can be divided into suspension type and table type. The electromagnetic vibratory feeder has a simple structure, convenient operation, no lubrication, low power consumption, and can even adjust the feeding amount. Generally used for loose materials.
It can be installed with a downward slope of 10° during normal feeding and can be installed with a downward slope of 15° for materials with high viscosity or high water content or fine powder. When selecting and designing, consideration should be given to setting up the nozzle and gate. For specific configuration, please refer to the configuration plan of the GZV series and GZ series electromagnetic vibratory feeder to ensure the stability of vibration amplitude and feeding volume.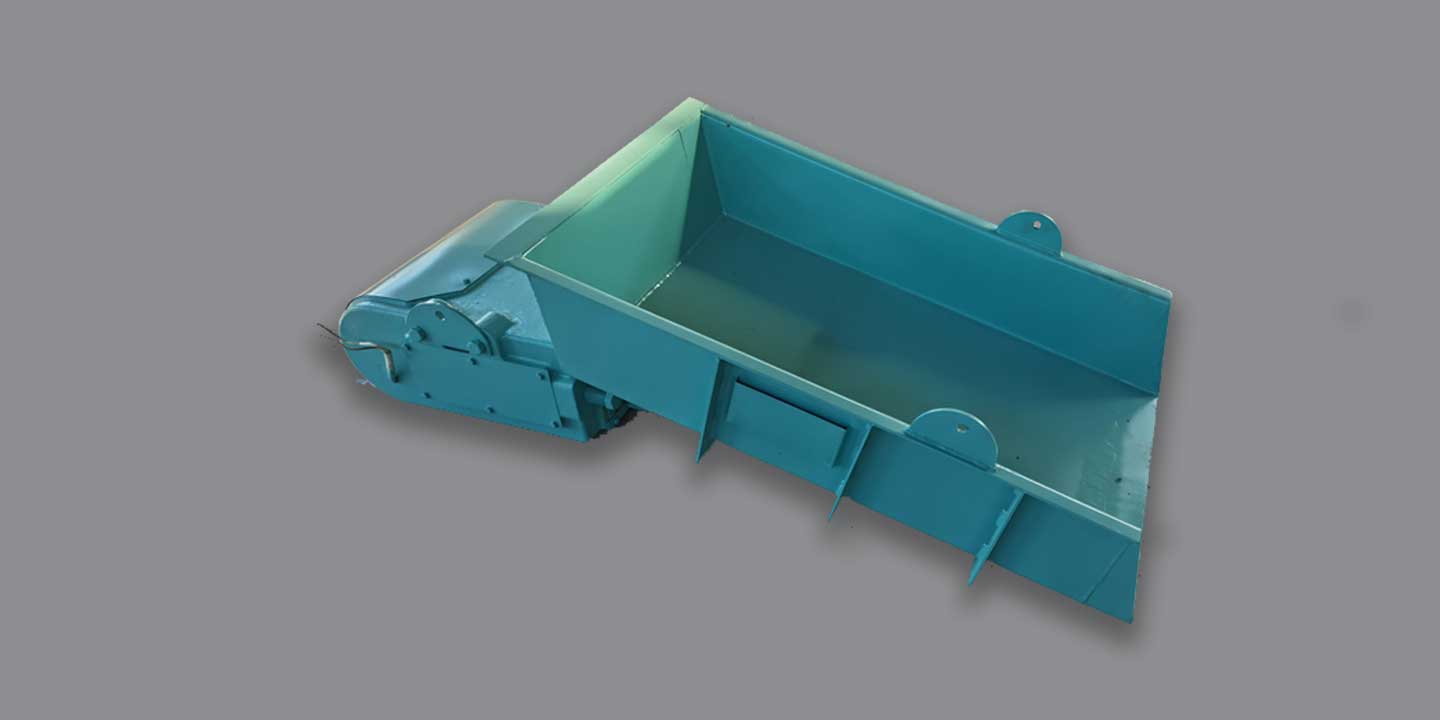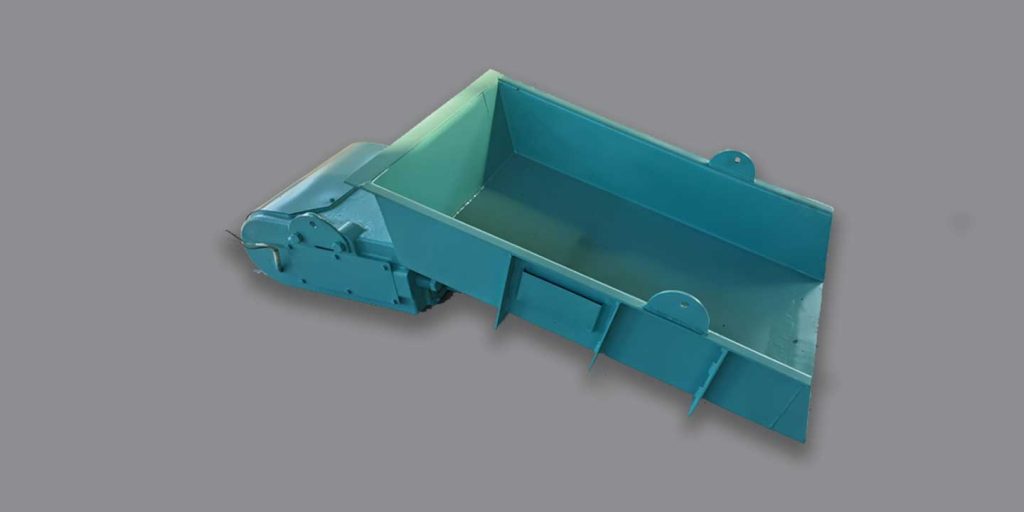 6 characteristics of DMA electromagnetic vibratory feeder
Reasonable and compact structure, lightweight, small center of gravity deviation, easy installation and maintenance, no transmission parts, no lubrication, and low operating costs.
Reasonable design, the low energy consumption of the whole machine.
Uniform quantitative feeding, high feeding accuracy
Stepless adjustment of the feeding amount can realize automatic control and centralized control.
When feeding, the material moves forward according to the parabolic trajectory, which has little wear on the feeding tank.
This electromagnetic vibrating feeder is not suitable for hot materials above 300°C and occasions with explosion-proof requirements.
Technical Parameters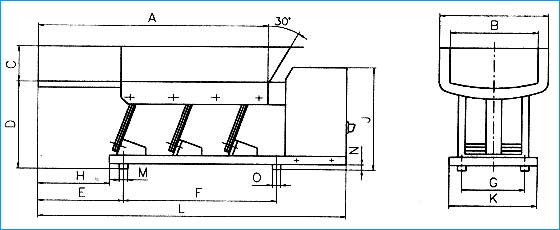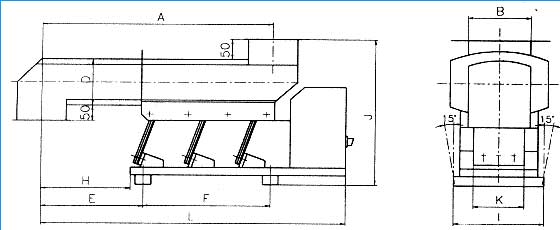 Model

Feeding amount

double amplitude(mm)

Voltage(V)

electric current(A)

active power(kw)

Supporting electric control box

Weight(kg)

m3/h

t/h

DMA2

1.5

2.5

1.75

220

≤0.6

0.06

XKZ-5G2

18

DMA4

3

4.9

≤1.0

0.09

XKZ-5G2

35

DMA8

5.5

8.8

≤2.3

0.15

XKZ-10G2

74

DMA16

11

16.5

≤3.8

0.20

XKZ-10G2

145

DMA32

22

33

≤7.0

0.45

XKZ-20G2

234

DMA63

43

65

≤10.6

0.65

XKZ-20G2

410

DMA125

90

138

1.5

380

≤13.3

1.50

XKZ-40G3

730

DMA250

200

320

≤20.0

2.50

XKZ-40G3

1740
| | | | | | | | | | | | | |
| --- | --- | --- | --- | --- | --- | --- | --- | --- | --- | --- | --- | --- |
| Model | A | B | C | D | E | F | G | H | I | L | M | K |
| DMA2F | 350 | 150 | 50 | 80 | 190 | 240 | 100 | 160 | 180 | 500 | 220 | 120 |
| DMA4F | 500 | 175 | 50 | 100 | 210 | 340 | 120 | 165 | 190 | 550 | 230 | 130 |
| DMA8F | 650 | 250 | 50 | 150 | 250 | 400 | 130 | 240 | 240 | 895 | 280 | 160 |
| DMA16F | 800 | 300 | 50 | 170 | 255 | 640 | 160 | 250 | 280 | 1125 | 330 | 180 |
| DMA32F | 850 | 450 | 50 | 195 | 330 | 660 | 200 | 270 | 360 | 1190 | 410 | 280 |
| DMA63F | 1000 | 600 | 50 | 245 | 450 | 700 | 240 | 350 | 400 | 1350 | 440 | 310 |
| DMA125F | 1250 | 800 | 50 | 315 | 665 | 750 | 260 | 465 | 520 | 1815 | 560 | 400 |
| DMA250F | 1500 | 1100 | 50 | 430 | 640 | 900 | 280 | 540 | 730 | 2090 | 780 | 550 |
| | | | | | | | | | | | | |
| --- | --- | --- | --- | --- | --- | --- | --- | --- | --- | --- | --- | --- |
| Model | A | B | C | D | E | F | G | H | I | L | M | K |
| DMA2F | 350 | 150 | 50 | 8 | 190 | 240 | 100 | 160 | 180 | 500 | 220 | 120 |
| DMA4F | 500 | 175 | 50 | 100 | 210 | 340 | 120 | 165 | 190 | 550 | 230 | 130 |
| DMA8F | 650 | 250 | 50 | 150 | 250 | 400 | 130 | 240 | 240 | 895 | 280 | 160 |
| DMA16F | 800 | 300 | 50 | 170 | 255 | 640 | 160 | 250 | 280 | 1125 | 330 | 180 |
| DMA32F | 850 | 450 | 50 | 195 | 330 | 660 | 200 | 270 | 360 | 1190 | 410 | 280 |
| DMA63F | 1000 | 600 | 50 | 245 | 450 | 700 | 240 | 350 | 400 | 1350 | 440 | 310 |
| DMA125F | 1250 | 800 | 50 | 315 | 665 | 750 | 260 | 465 | 520 | 1815 | 560 | 400 |
| DMA250F | 1500 | 1100 | 50 | 430 | 640 | 900 | 280 | 540 | 730 | 2090 | 780 | 550 |
Read More: Guide to the Best Vibratory Feeder & Grizzly Feeder in 2023