High-Quality Grizzly Feeder Manufacturer
Grizzly Feeder
UHM grizzly feeders have been designed to excel in the harshest applications. High abrasion resistance, durable heat-treated drive, and high-quality vibrators ensure long-lasting reliable performance.
ZZG Grizzly Feeder
The machine of the ZZG series low-profile Grizzly Feeder is composed of four parts: box body, vibrating motor, grid row, and spring damping device. The box body is a rigid structure, the internal test, and the material are connected by double steps, the gap is wedge-shaped to facilitate the material, and the grid bar is made of wear-resistant high manganese steel. The vibration-damping device adopts a high-quality coil spring.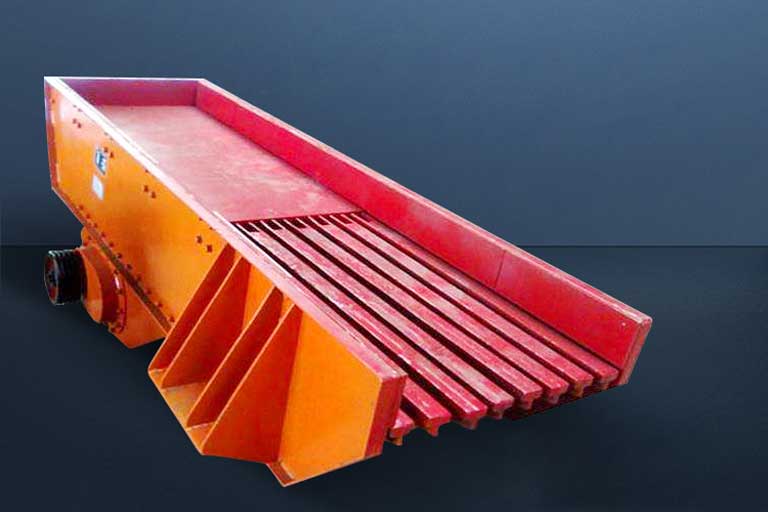 Features of ZZG Grizzly Feeder
ZZG series low-profile Grizzly Feeder is mainly used for evenly conveying bulky materials before the coarse crusher, and it is the supporting equipment of the coarse crusher. The working surface of the low-profile vibrating feeder is divided into two areas: the conveying section and the grid section. The conveying section is horizontal, and the grid bar is inclined. The upper part is equipped with a hopper for storing raw material mixture, the conveying section is used as the bottom surface of the storage hopper, and the lower part is used for removing waste. The grid row can be designed as a sieve plate type or a plate type according to user requirements.
The grizzly feeder is rigid enough to withstand the impact of large stones;
The aspect ratio of the ZZG grizzly feeder working face is reasonable; the structure is compact and the maintenance is convenient;
The discharge end of the ZZG grizzly feeder is designed with a special rod structure, which can separate the soil and fine-grained materials in the material while feeding so that the crusher can function more effectively.
The overall height of the model ZZG grizzly feeder is low, and when it is combined with the primary crusher, it creates conditions for the reasonable arrangement of various equipment, which is beneficial to the arrangement of the entire crushing system and reduces the system cost.
Read More: Feeder Wikipedia
Parameters
Model
Working surface size
(mm)
Maximum feed size
(mm)
Processing power(t/h)
Supporting Jaw Crusher Specifications
Power
(kW)
Weight
(t)
ZZG0725
750×2560
350
150
PE-400×600
2.20×2
≈3000
ZZG0937
900×3700
450
200
PE-500×7500
3.70×2
≈4300
ZZG1037
1050×3700
500
300
PE-600×900
3.70×2
≈4900
ZZG1243
1220×4300
600
400
PE-750×1060
4.50×2
≈6000
ZZG1449
1370×4900
800
450
PE-900×1200
5.50×2
≈7100
Read More: Guide to the Best Vibratory Feeder & Grizzly Feeder in 2023